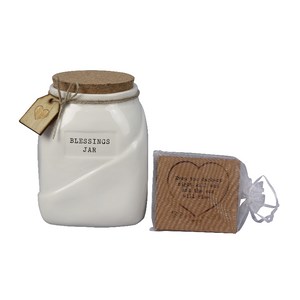 Ceramic Blessings Jar and Blessing Cards
Young's
Regular price
$15.00
Sale price
$26.95
Unit price
per
We could all benefit from a few, or a lot, of blessings in a jar these days. What a great way to bless yourself and/or others. This adorable white ceramic jar features the words "Blessings Jar" in black stamped letters. The cute farmhouse style jar comes with a pouch full of blessing cards to fill your blessing jar. Half of the cards have blessings already printed on them, while the remaining half are blank for customized blessings for the intended recipient to enjoy. What an amazing way to touch someone's heart with such a personalized gift. 
Blessings In A Jar Details: 
These sweet blessings in a jar are the perfect addition to a farmhouse decor, an all white kitchen, or even the side of your bathroom vanity. Wherever you will see it daily, place this blessings jar in plain view, so you will not forget to get your daily dose of goodness. The white ceramic jar is stamped with the words "Blessings Jar" and is topped with an adorable cork lid to contain all of those sweet blessings. The jar measurements are 5 inches long by 5 inches wide by 6.5 inches tall. Gift this thoughtful gift to anyone you would like to bless!
FABRIC & CARE:
Gifting Ideas:
We have so many gifting ideas for these thoughtful blessings in a jar. Christmas is coming up, so that is an obvious time to gift one of these sweet gifts to your friends, family, and co-workers. What a great way for them to start off their year! this jar would also make a great gift for Advent or even Lent! Do you know someone who is struggling more lately? This would be a very thoughtful way of letting them know they are not alone. Personalize the blank cards to address their struggles with encouraging words! Birthdays and Mother's Day are also great times to bless the people in your life with your loving gift of blessings. No need for a gift for someone else? Why not gift it to yourself? You need a daily dose of encouragement too! 
---
Share this Product
---