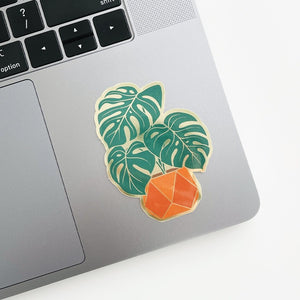 Monstera Sticker
Paper Anchor Co.
Regular price
$2.00
Sale price
$3.00
Unit price
per
Plant ladies, sticker lovers, and sticker loving plant ladies will all delight at this metallic Monstera sticker. Monstera are a species of evergreen tropical vines and shrubs that are native to Central America. They are best known for their natural leaf-holes. Because of this well-known feature, they have been nicknamed the Swiss Cheese Plant. The Monstera's leaf-holes are called fenestrations and are though to maximize sun fleck capture on the forest floor. We don't know about that, but what we do know is that these large leafed beauties are some of our favorite house plants. The Monstera is an easy-going plant and typically remains pest-free. They are known to acclimate fairly well to indoor conditions. Place this Monstera sticker wherever you need reminding to stay peaceful and be open to acclimating when needed.
Monstera Sticker Details:
This Monstera sticker is so cute on everyday items making them stand out amongst the crowd. Try this metallic cutie on your laptop, water bottle, planner, notebook and more! This little Monstera sticker is 2.2 inches x 3 inches. It is a single die-cut sticker and has a metallic finish. It is waterproof and has UV protection coating. It may just be the perfect plant sticker ever. You plant mamas will be so proud.
2.2 inches x 3 inches

Single die-cut sticker.
Metallic finish.
UV protective coating.
FABRIC & CARE: 
Waterproof.
Made in the Sweden.
Use Ideas:
Monstera plants are super popular indoor plants that are adaptable and pretty easy-going plant personalities. This Monstera sticker is a lovely representation of one of plant-lovers' top favorite plants. This sticker is great for making your everyday belongings less boring. Find a flat surface like a phone, computer, journal, or tumbler and display this beauty with pride. The Monstera sticker works well on all surfaces and is also perfect for gifting to all of your fellow plant loving friends and family!
---
Share this Product
---