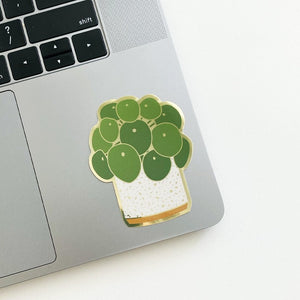 Pilea Plant Sticker
Paper Anchor Co.
Regular price
$2.00
Sale price
$3.00
Unit price
per
The only things we love as much as a beautiful potted plant are potted plant stickers! You may not have heard of a Pilea Peperomioide, but you have probably seen one. These cute house plants go by many names such as the Chinese Money Plant, Pancake Plant, Lefse Plant, Missionary Plant... It is easy to grow and propagate, so we like to call the Pilea one of the coolest houseplants around. These unique looking plants are
a flowering species in the nettle family (Urticaceae). They are native to Yunnan and Sichuan provinces in southern China. These popular plants have smooth, unusual, modern-looking leaves that resemble green coins (or small pancakes).
Pilea used to be rare and difficult to find. People used to call Pilea the "pass it-on-plant", because the only way to get one was to know someone who had one and was willing to give away one of the Pilea sprouts. These cute potted plant stickers will be the perfect gift to "pass on" to your fellow plant-loving friends.
Potted Plant Stickers Details:
These potted plant stickers are great for personalizing boring everyday items. This Pilea sticker is can be placed on a laptop, water bottle, planner, notebook and more! Although a real Pilea will need its space, these potted plant stickers are a convenient 2.3 inches x 2.9 inches. This Pilea sticker is a single die-cut sticker with a metallic finish. It is waterproof and has a UV protection coating.
2.3 inches x 2.9 inches

Single die-cut sticker.
Metallic finish.
UV protection coating.
FABRIC & CARE: 
Waterproof.
Made in the Sweden.
Use Ideas:
Potted plants will always be a great way to add warmth to your surroundings. These potted plant stickers will look great stuck on your everyday items. Start customizing all of your belongings with this Pilea sticker. Your new potted plant stickers will look sharp on your laptop, water bottle, stainless steel tumbler, coffee mug, phone, or whatever surface you can think of! Be sure to "pass them on" to all of your friends as gifts!
---
Share this Product
---