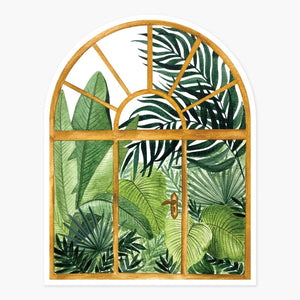 Glasshouse Clear Sticker
Paper Anchor Co.
Regular price
$3.00
Sale price
$5.00
Unit price
per
Some of our new favorite products are stickers for a laptop! We have been spending less time with real people over this past year (or more) and feel like the thing we spend the most time with deserves a little sprucing up. We love to bring new life to a boring laptop with these cute plant stickers for a laptop. Our everday item that we take for granted is getting a personalized touch. A new sticker is a fun and affordable way to do just that. If your laptop doesn't need dressing up as much as ours, you can also use these cute Glasshouse plant stickers on your favorite water bottle, stainless steel tumbler, planner, notebook, or whatever everyday item you would like to make special! We are all still searching for interests and past-times that bring us joy. If you are like us, you may have discovered that outside activities like gardening and plants in general are great sources of energy and entertainment. You are going to love this vinyl plant-filled sticker as much as we do. Remind yourself of your happy place amongst your plants even when stuck inside working. You can also gift it to you fellow plant-lovers!
Stickers For A Laptop Details:
Use these adorable stickers for a laptop, a water bottle, coffee tumbler, planner, journal and more! The window looks into a glasshouse filled with a plant sanctuary. The plant window sticker is 3 inches x 3.8 inches. The sticker is a single die-cut sticker. The clear vinyl finish has a glossy UV coating that is weatherproof and waterproof with a permanent adhesive. The sticker comes on a descriptive card backing.
3 inches x 3.8 inches

Single die-cut sticker.
Clear vinyl finish.
Glossy UV coating.
Descriptive card backing included.
FABRIC & CARE: 
Weatherproof.
Waterproof.
Permanent adhesive.
Made in the Sweden.
Use Ideas:
We love plant stickers for a laptop, water bottle, stainless steel tumbler, coffee mug, phone, or whatever surface you can think of! Have fun adding personality to your belongings, and they will stand out from the crowd of other boring basics. Place these stickers and others from our collection on everything you own. 
---
Share this Product
---