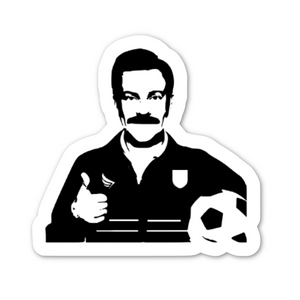 Ted Lasso Sticker
Aspen Lane
Regular price
$3.50
Sale price
$4.50
Unit price
per
These Ted Lasso stickers for a laptop, water bottle, or wherever you put your favorite stickers would the perfect gift for Ted fans this year.  We love just about everything related to this favorite show or ours. This sticker makes us so happy! Coach Ted always has words of wisdom readily available for his players and coaching staff. He leads us all to believe in ourselves more than we thought we could. This vinyl Ted Lasso sticker will be the perfect reminder that there is always someone out there rooting us on (even if he is a fictional character in a TV show).  Show yours off on your personal belongs, and share the love by gifting him to your favorite people. 
Ted Lasso Stickers Details:
Let your best selves be inspired by these adorable Ted Lasso stickers and "Believe" in what is possible. Add a special touch to a laptop, water bottle, planner, notebook and more with this unique sticker! Carry Coach Ted with you everyday and look to him for inspiration when you need it during your day. These stickers are made out of high quality and weatherproof vinyl and measure approximately 3.5 inches by 3.5 inches.
These stickers were created by Aspen Lane. It is a woman-owned business that produces small batch collections in Denver, CO and Missouri. The stickers (and all products by Aspen Lane) are ethically made by workers paid fair, ethical living  wages. 
3.5 inches x 3.5 inches

.
Weatherproof.
FABRIC & CARE: 
High quality vinyl.
Made in the United States of America.
Use Ideas:
Imagine the pep-talks Ted would be giving you as you enjoy his presence on all of your day-t0-day items. You will be so on-trend with this personalized touch. Know people who love this new must-see television show? These stickers will make a great stocking stuffer, gift, or even gift tag! Share this gift with all of the Ted Lasso fans in your life. Help them "Believe" this Christmas and throughout the New Year!
---
Share this Product
---