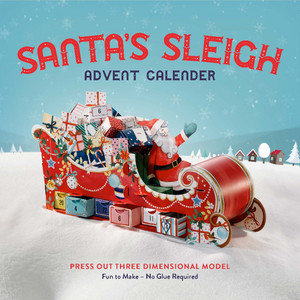 Santa's Sleigh Advent Calendar
Babalu
Regular price
$7.00
Sale price
$14.95
Unit price
per
We are in love with this vintage Santa Advent calendar and all of this hidden treasures. The annual tradition of having an Advent calendar has been enjoyed for generations by children and adults alike. The ritual and the joy it brings when waiting to complete the daily activity to reveal a festive surprise only adds to the build-up of excitement the closer you get to Christmas. Use this sleigh calendar to to pause each day during the busy season of Advent to remind yourself what it is all really about. Add the tradition of an advent calendar to your family's routine, and the children will remember it for years to come.
Vintage Santa Advent Calendar Details: 
This lovely vintage style Santa Advent calendar features a 3d paper sleigh with Santa and his load of presents perched atop. This fun version of the traditional Advent calendar is the perfect gift for family and friends. Help them get excited with building anticipation by counting down the 24 days before Christmas. Santa's sleigh has 24 pockets to discover with hidden drawers to find on your path to the holiday. The lovely holiday-themed illustrations are printed on sturdy board for stability. The measurements are 11 inches by 13.4 inches. Gift this calendar to both family and friends.
FABRIC & CARE:
Gifting Ideas:
An important tradition in our family, we all look forward to interacting with our Advent calendars each year. With each passing day, the anticipation builds as we get closer to Christmas. This vintage Santa Advent calendar is one of our favorite versions we have found in awhile. This would be a great gift for a Bible study group, Sunday school class, your children, your grandchildren, your friends, or even yourself! Start on December 1st (or catch up if you receive it later), and enjoy the excitement that builds while participating in this age-old Advent tradition.
---
Share this Product
---