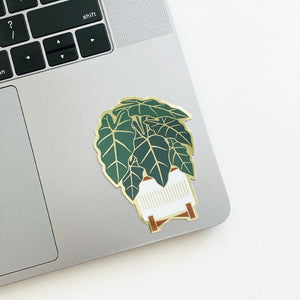 Alocasia Sticker
Paper Anchor Co.
Regular price
$2.00
Sale price
$3.00
Unit price
per
We love house plant stickers! This die-cut sticker is of one of our favorite "green companions" - the Alocasia Plant. Alocasias are also known as Elephant's Ear plants due to their large, beautifully patterned leaves. They have an elegant airy appearance due to their tall, smooth stems that grow out of a tuber. The Alocasia plant is a member of the Arum family and grows in the tropical climates of South-East Asia and the South Pacific Islands. There are 79 known species. This favorite house plant is referred to as "the tree that grows up to the heavens". It is said to be the plant represented in the Western and Eastern versions of "Jack and the Beanstalk. Symbolically, the Alocasia is a symbol for seizing opportunities when they arise, even if they are risky. One of our favorite facts about the plant in these cute house plant stickers is that the Alocasia plant grows from a bulb. As a result, if they lose all of their leaves, the stored energy in the bulb allows them to sprout new leaves under the right conditions. What an amazing representation of each of us in the ups and downs of life!
House Plant Stickers Details:
These house plant stickers are a wonderful symbol for beauty, strength, and perseverance. This Alocasia sticker can be used to personalize a laptop, water bottle, planner, notebook and more! Although a live Alocasia can grow to be quite large, these cute little house plant stickers are manageable at 2.2 inches x 3 inches. This Alocasia sticker is a single die-cut sticker with a metallic finish. It is waterproof and has a UV protection coating.
2.2 inches x 3 inches

Single die-cut sticker.
Metallic finish.
UV protection coating.
FABRIC & CARE: 
Waterproof.
Made in the Sweden.
Use Ideas:
House plants are an easy way to add life to your surroundings. These house plant stickers are perfect for adding life to your everyday items as well. Start personalizing all of your belongings with this Alocasia sticker. Be sure to share them with all of your plant loving friends as well!
---
Share this Product
---