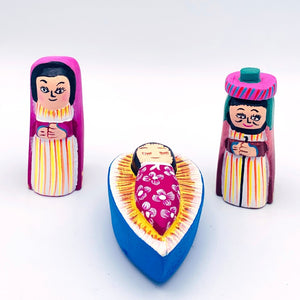 Balsa Christmas Nativity Set
Women of the Cloud Forest
Regular price
$20.00
$0.00
Unit price
per
Over the years, our family has acquired quite the collection of unique nativities, and we are so excited to add this colorful natural nativity to the group. Hand-painted with the bold and bright colors traditionally used by artisans in Central America, this three piece set is hand carved out of balsa wood. Each handcrafted piece is one of a kind. These natural, eco-friendly nativities are crafted by a cooperative of artisans on Isla Solentiname, Nicaragua. Though small in stature, these eye-catching figures are sure to stand out amongst your other holiday decor.
This balsa nativity set is part of our new collection from Women of the Cloud Forest. This amazing new brand provides business education, a steady stream of orders, and interest-free micro-loans and grants to small family workshops and cooperatives in countries around the world. We carry a variety of new products that you can purchase and display proudly this year. The beauty of these decorations and their origin will be meaningful for years to come.
Natural Nativity Details: 
This 3-piece natural nativity set is hand carved out of lightweight balsa wood by a cooperative of artisans on Isla Solentiname, Nicaragua. Each set is unique due to the hand-painted quality. The approximate size of each piece is 3 inches by 1.5 inches. When you purchase a Women of the Cloud Forest product, you are purchasing an item that is fair trade, eco-friendly, small batch, and handcrafted by artisans being supported around the world. 
3" x 1.5"

Fair trade.
Eco-friendly.
Small batch.
FABRIC & CARE:
Sustainably harvest balsa wood.
Hand-painted with non-toxic acrylic paint.

Made on Isla Solentiname, Nicaragua.
Gifting/Decorating Ideas:
Fill your home with fun and festive Christmas decorations like this colorful natural nativity. Know someone like us who has a collection of nativities? This will be the perfect gift for them! We have been on the quest for fair-trade, eco-friendly gifting options that you can be proud to give. We want it to be easier to gift responsibly this year! A unique nativity will stand out beautifully on a shelf, counter, or even a mantel. These would make a great gift for teachers, co-workers, a Secret Santa, friends, and family. Don't forget to gift one to yourself!
---
Share this Product
---